Shea Smith is an herbalist and owner of HAALo in Nevada City, CA. She shares her personal story recovering from Lyme Disease. "A hero's journey and a spiritual path that breaks you open… One of the biggest gifts God gave me to get my life back on track !"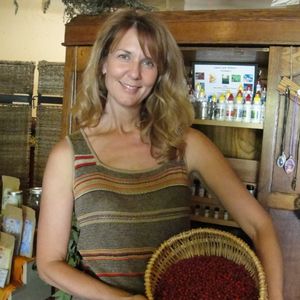 Sabine's interview with Shea Smith on Lyme Disease Part I.
 Shea shares her and her son's experience with Lyme Disease (L.D). She describes how her life fell apart in the first stages of living with L.D. While going through multiple loses for many months she was feeling hopeless and suicidal. Her brain was so severely affected that she had to teach herself how to do math again with children's books. She is now running her own successful herbal store with several practitioners working for her.
She views the ability to accept the facts of the illness as the first step towards healing. Her health improved little by little, using her over a lifetime accumulated knowledge and experience as an herbalist. Besides an organic, simple diet, yoga, meditation, supplements, vitamins she used herbs to strengthen her nervous system tissues, build brain health and rebuild the body. Simplifying her life was another major change that supported her recovery.
Shea likes who she has become in the process of struggling to get her health back. Finding to be now a more compassionate and patient person with herself and others. A person that is more authentic, present, calmer, introspective and community oriented. She describes how the compassionate care of others makes her want to give back now what she received. "I like myself a whole lot better now". In terms of society's expectations it counts as less. She views herself now as being devoted to humanity while before her focus was her own independence.
She looks at how hypersensitivity can originate in depleted adrenals. Sensitivity to the environment might be a nervous system disorder. Depleted adrenals affect the thyroids and with that the ability to handle daily processes. An herbalist will look at multiple issues when assessing what might cause the nervous system imbalance. The ripple affect of living for years with a TBI and the consequent stressors, might have depleted the adrenals as well as nutritional deficiencies. Here Nervians calm the Nervous System "add a soft cushion to life", adaptations rebuild the ability to handle the day to day and support memory. "There is nothing we cannot alleviate the side effects with".
Although she experiences set backs at times when changing her routine, for the most part her symptoms of hypersensitivity disappeared.   When having an illness that affects your brain it changes who you are and your life. Rebuild your life choice by choice and make necessary changes, she encourages others. For her the biggest obstacle was to let go of her expectation of herself and how life would be.   Belonging to many L.D. forums she honors the heroic efforts taken by others to heal. "My way is not better than anyone elses" Everyone has her/his own hero's journey to recover from this. I tried everything. A few of it worked".
She talks about a homeless person that she provided with herbs gradually working with one symptom at a time and how he has progressed over time.   Her 20 years old son still struggles with many symptoms. She experiences "survivor guilt" since what worked for her did not work for him although they had the same blood test results. She shares some of the changes they made to support him. She empathizes the toll it takes on the parents to see their child struggle with L.D. while growing up. A diagnose of a mental illness often is a bacterial infection in the brain. She encourages the parents to never give up. There will be one treatment that works. " I told my son: We leave no rock unturned". "We will find the remedy for what works for you and I am thankful that I get to be your mom through this."